FLAXEN BEAUTY
OLD WOOD BURNS BRIGHTEST, OLD LINEN WASHES WHITEST…
   "I wish everyone could perceive daylight filtering through white linen curtains silhouetted against an open window. The entwining of weave, air and space – just where the threads turn in the selvedge. Accentuating the light within the room: sheer simplicity that calms your breathing" – Ingela Berntsson, Vaxbo Lin.
…For centuries Sweden was an important flax grower and linen producer. The province of Halsingland in the north has long been known for its outstanding craftsmanship and production of high quality linen. Linen has an ancient history and not only in Sweden. Egypt used to be known as the Land of Flax. According to mythology the goddess Isis invented linen (twined flax), specifically to cloth her brother and spouse. Similarly the Tabernacle, built by the Children of Israel, was hung with curtains of fine twined linen – the fabric specified by God in his instructions to Moses. Scraps of linen have been found in Neolithic settlements; Roman and Phoenician traders promoted the manufacture of linen in Europe and by 200BC much of the farmland of Gaul was given to flax production.
   In some areas flax shaped an entire region's society and culture. Belgium in particular had whole towns supporting its manufacture, with each producing distinctive fabrics. Production was a long process, involving scotching, beating, rippling and water-retting. Some such as bleaching has a disastrous effect on the health of workers but financial rewards outweighed the risks: at times linen was literally worth its weight in gold.
   But why has linen been so popular for so long? Traditionally linen was associated with cleanliness, purity and protection against illness. It's a fabric to be used for the private aspects of one´s life, as an item of clothing directly against the skin or for use in the bedroom or bathroom. The word lingerie with which most women are familiar, is derived from the Latin name for the flax plant – linum. It is hardly material despite its delicate connotations, and primarily its use was utilitarian – sails and rope for example were often made from linen. Modern uses of linen are mainly domestic explains Ingela Berntsson, designer for Vaxbo Lin, a Swedish linen company that has devoted itself not only to the design of beautiful household linen but also to the actual production of fiber – is reintroducing an important part of Swedish history.
   Ingela explains: "Linen is known for its ability to absorb moisture – it is better than cotton – why is why we chose to make towels from our linen. Also the feeling of linen on your skin is different to that of cotton. A linen towel has a sensual touch, softly absorbing all the moisture from hands and face. Linen towel also dry quicker than any other natural fibre."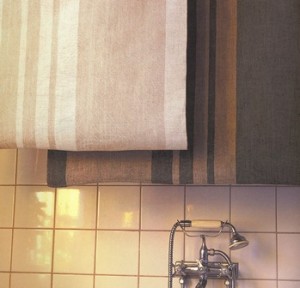 As far as Vaxbo are aware, there are no other companies who encompass all major aspects of production, bar the growing. They spin the yarn, weave the thread and design their own products. Vaxbo´s managing director, Rolf Åkerlund, grew up as flax cultivation was waning in his community, but it left a lasting impression. His parents grew flax so it was an engrained childhood experience. He initiated the project to reopen. The Old Mill in Vaxbo.  The Vaxbo project not only restored the building but also led to an installation of a modern linen spinning mill – complemented by several looms. Using the finest Belgian flax, the samples are done on a hand loom.
   Ingela Berntsson has absorbed the textile heritage and social history of the province. Her inspiration comes from almost forgotten treasures stored in old farmhouses attics and basements. She´s used her knowledge of the area to create new patterns and colours: rustic, yet sophisticated, they retain their connection to traditional designs. Ingela´s knowledge is extensive. She notes: "unbleached, the natural colours of linen range from a warm beige to grey, depending on the growth conditions of the flax: the soil, the climate and the retting. Ever-changing colours, representing life itself. Eternally beautiful, these are designs for each and every day throughout a lifetime".
   Ingela is fortunate to have control over every stage of the design process. Linen is a product that demands attention from birth to maturity. It is nurtured through each stage of development with what could be called love. By re-establishing flax processing in Vaxbo, century-old knowledge and traditions have been handed down to new generations, and what had originally been regarded as an optimistic vision has become a working reality.
Text: Clare de Lotbiniere
Foto: Jacob Bruce